ESPEC environmental chambers ideal for battery cell evaluation
Battery technology is now a critical component in how we use and generate electricity.
The rise of eco-friendly vehicles such as hybrids and electric vehicles is seeing growing demand for testing of battery cells and packs under precisely controlled testing environments.
Evaluation tests of new chemistries for solar batteries exposed to demanding environments and other devices used for power generation, storage and control also need a safe environment to undertake rapid temperature and humidity cycling during charge/discharge and safety testing.
ESPEC produce a range of Test chambers that are ideally suited to meet the most demanding needs of battery testing and are manufactured to meet UL, IEC, SAE and EUCAR 1- 6 standards
Premium features for the ultimate in testing flexibility and safety:
Manufactured to UL, IEC, SAE and EUCAR 1- 6 standards
Accommodate small battery cells & modules to large battery packs & battery cells
Risk-free testing to investigate safety, performance & reliability
Ideal for testing NIMH, lead acid & lithium ion batteries
Built-in safety features reduce the chance of explosions
Platinous Series
The Platinous series test chambers come in a variety of sizes, ranges, and options to meet your specific battery testing requirements both for temperature and humidity cycling. The ESPEC Platinous series includes many standard features enabling a safe environment for efficient and effective battery testing, and safety options are available to bring the Chambers up to the EUCAR 6 standard.
Class leading volumes from 120 litres to 800 litres
AR Series
The AR fast rate environmental test chamber chambers have an increased tolerance to support heat loads from specimens and provide superior levels of temperature change performance and a wide humidity control range. The line-up consists of twenty chambers that can be selected in accordance with temperature & humidity range, internal capacity and temperature change rate. Temperature change rate is between 4K/minute and 18K/minute, which conforms to IEC standards and test standards for automotive parts. 
SH/SU Series
In charge-discharge tests, speciments are repeatedly charged and discharged while undergoing prolonged exposure to a uniform temperature envronment.
SH/SU chambers are capable of maintaining a stable temperature and environment for long periods of time.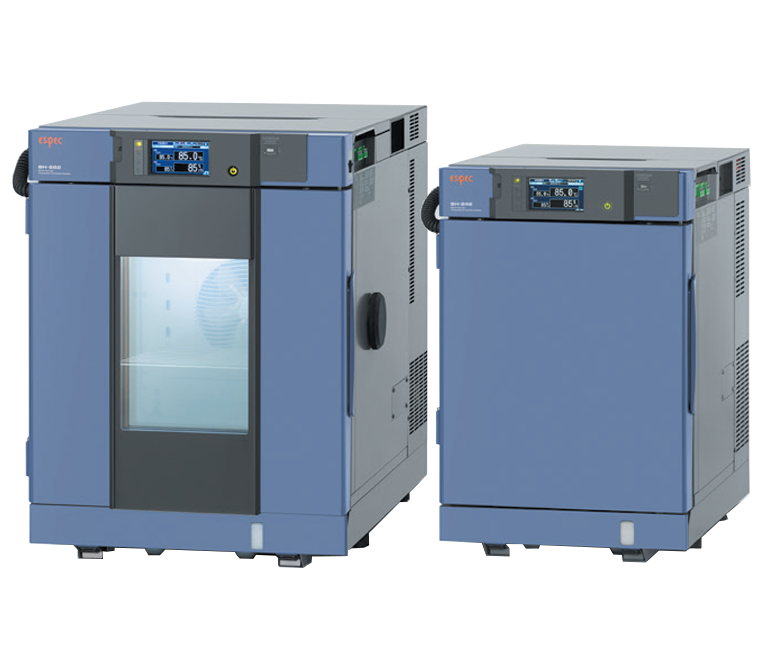 TSA Series
The ESPEC TSA Series Chamber is an advanced environmental test chamber specifically designed for thermal shock testing. Rapid and extreme temperature transitions, make it ideal for evaluating the performance and durability of products under harsh conditions. The TSA Series Chamber features a unique two-zone design with separate hot and cold compartments, enabling quick and efficient temperature cycling.
SPH Series – High-Temperature Chamber with Pressure Relief Vent
The SPH series sets the industry standard for high-temperature chambers for product testing, including applications like battery testing that carry the risk of explosions. These chambers come equipped with essential safety features in the form of pressure relief vents, which serve to mitigate explosion pressure. In the event of an explosion, the pressure relief vent, efficiently releases pressure from the top of the chamber.
These temperature chambers provide exceptional ease of use and temperature uniformity. Additional safety features, including an automated fire extinguishing mechanism, can be added upon request.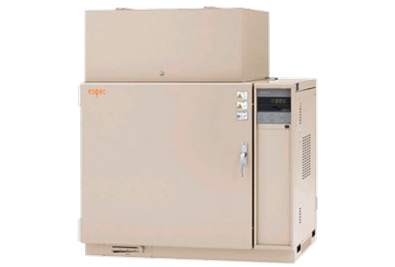 FD Series
With its advanced features and precise control, the Espec FD Series offers reliable testing and evaluation of products under extreme temperature and humidity conditions. The FD Series Chamber provides a wide temperature range from -70°C to +180°C, allowing for versatile testing capabilities. Its spacious interior accommodates large test specimens or multiple smaller items, while the user-friendly control panel and intuitive interface make it easy to program and monitor test parameters. Ideal for secondary battery charge / discharge testing.
E Series
The ESPEC E-Series Walk-In Type Temperature and Humidity Chamber is a robust and spacious chamber designed to simulate various environmental conditions for large-scale testing applications.
This chamber offers ample interior space, allowing for the testing of large or multiple specimens simultaneously. The chamber's sturdy construction and high-quality insulation ensure excellent temperature uniformity and energy efficiency. The user-friendly interface and intuitive controls make it convenient to program and monitor test parameters.
Unitemp & Espec are playing a critical role in supporting battery research at the University of Warwick.  The Energy Innovation Centre at WMG on Warwick University's campus is aiming to establish new battery chemistries and manufacturing techniques working with many global automotive partners. In the video below Mark Amor-Segan, principal research engineer, and Dr. Yue Guo, Deputy Head of the Energy Innovation Centre, explains how the unique facilities enable them to move from experimental chemistries right through to cell manufacture and battery deployment.
Video Testing for innovative storage solutions
Support when you need it
from expert people
Our after sales service and ability to support existing installations, from planned maintenance schedules and emergency repairs to full on-site refurbishment mean our customers equipment retains optimal performance and up time.