Specialist Walk-In Rooms
Unitemp
Walk-In Environmental Test Chambers for Large Products or Large Volume Testing
Unitemp designs and builds Walk-In Environmental test Chambers for large products or large volume testing. Created from modular panels each walk-in chamber is individually built to suit the specific customers' requirements.
Unitemp walk in chambers allow you to simulate different climates and environments with ease and precision, to understand the impact on the safety or quality of your products. A walk-in climatic chamber provides a large temperature and humidity-controlled environment to test large components, assemblies and finished products. The chambers have superior temperature and Rh stability and can be used for sample conditioning before other tests, stress testing and accelerated ageing.
Independent Advice
We are always available to offer expert advice and technical support. Unitemp's engineers have experience working with a wide range of clients and applications and can design and develop a suitable walk in environmental chamber to meet your requirements. Add to that our exceptional after sales support, customers can be assured of excellent performance and reliability.
Key Features
Modular, robust construction
Even temperature spread – even when loaded
Humidity options
Suitable for testing to most standard specifications
Fully customisable
Choice of size
Touch screen programmer
Temperature and humidity ranges
Comprehensive safety features
Applications
Pharmaceutical Industry
Electronics Industry
High volume testing
Steady-state "soak" testing
Temperature cycling
Climatic testing
Powered and un-powered products
Production testing of sub-assemblies and complete equipment
Room Description
Fabricated from insulated panels fully camlocked Polyurethane Insulant Foam K value 0.23 w/m2.
Interior fabricated from stainless steel grade 304 or galvanized steel powder coated to RAL9000.
Interior Working Volume (dimensions) dependent on the product under test and performance specification required.
Performance
Temperature/humidity ramp rates dependant on product under test, size, weight and power.
Temp Range: Cooling
Single Stage Refrigeration:     -40degC
Two Stage Refrigeration:        -55degC
Cascade Refrigeration:           -70degC
Temp Range: Heating +80˚C
Humidity Range: 20% to 98%RH
Dry Bulb Range of:+10degC to +80degC
Control Tolerance
Temperature: +/-0.5degC
Humidity: +/-3%
Gradient
Temperature: +/-2degC
Humidity:         +/-5% RH
Walk In Test room for PACE INDIA. Walk-in 5 x 3 x 3 Temperature and Humidity chamber.
Pace India. Custom built with air-blast cooler to achieve required temp levels maintaining humidity levels . Used in Bangalore, India for satellite boxes.
Custom built military vehicle drive in test chamber. Thermal cycling -40 to + 125.
Walk in Test room for thermal cycling rapid rate down to -70c board testing on production line.
Walk in test chamber built to maintain stable conditions to calibrate medical equipment/ instrumentation for Perkin Elmer.
Interior of Walk in test room for Perkin Elmer.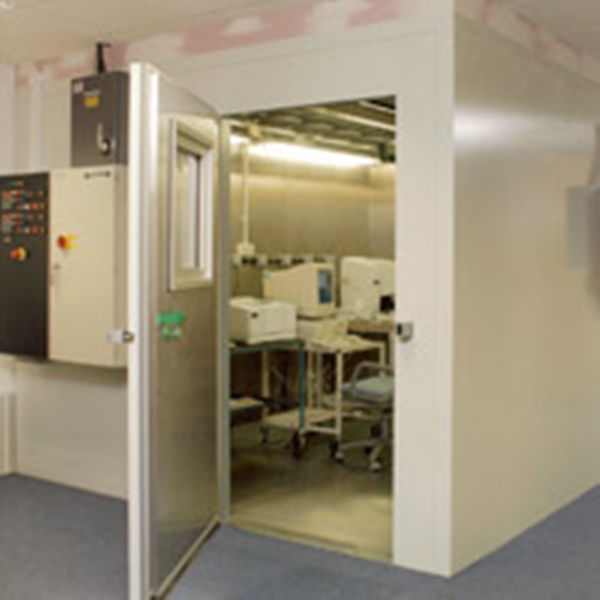 Gas Cooled Chamber: 250 litres – 1000. Stress screening Liquid Nitrogen chambers – Fast rate cooling down to -70
Cooling chamber for lighting manufacture to control high heat loads whist undergoing life testing.
Walk in test room- Thermal cycling, rapid rate down