Extended-height Platinum-series chamber for testing solar panels up to 1.2m tall
Your first choice for a medium-size test chamber for PV module testing is ESPEC's ENX48.
These models provide a variety of performance capabilities to meet maximum or minimum change rates in IEC or UL test standards. Incorporated are the features of our smaller Platinum and Global-N lines. The refrigeration systems of these models utilize modern, high performance scroll compressors that allow a small footprint while allowing unparalleled service access.
Performance acording to application
The models come in different performance versions, depending on your planned use. More powerful performance allows you to complete the temperature-cycling test (10.11) faster, or with a maximum number of modules. There also is a 'damp-heat' (10.13) only model that saves you capital-cost and energy by having only minimal refrigeration.
Easy-to-use Programmer
In addition, the P-300 programmer makes running an ESPEC environmental test chamber a breeze. The full-color, touch-screen interface is remarkably easy to use and understand. The P-300 can be managed remotely via our new Ethernet/LAN-based Web Controller, serial port, or GP-IB/LabView.
Features
Performance to meet IEC 61215, 61646, UL-1703 and similar test requirements

10.11 Temperature cycling
10.12 Humidity freeze
10.13 Damp heat

Large interior volume
Touch-screen controller
Viewing window
Optional module rack with rollers
Related Products & Downloads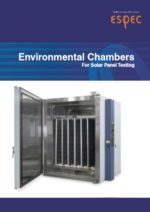 VideoTesting for innovative storage solutions
Support when you need it
from expert people
Our after sales service and ability to support existing installations, from planned maintenance schedules and emergency repairs to full on-site refurbishment mean our customers equipment retains optimal performance and up time.